Love as strong as death…an Ash Wednesday meditation
Yes, it is Ash Wednesday.  And, many of us will find a church somewhere — our own community or one unfamiliar to us  or a subway station or a street corner — and take upon ourselves the mark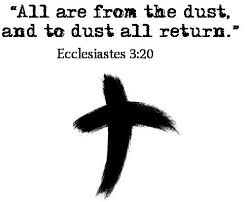 of this day, the simple smear of burned palm leaves and oils that for centuries before has shown the wearer to be a Christian, someone entering the time of fasting and reflection that by our tradition is called Lent.
And today, again, depending on where you mark the beginning of this journey, you may hear the words of the prophet Joel, who decries the darkness all around and calls the people to assemble and turn inward:  "rend your hearts and not your clothing.  Return to the Lord, your God, for he is gracious and merciful…" Or, you may hear from the prophet Isaiah, about the kind of fast that is ahead of us:  "Is this not the fast that I choose, a day to humble oneself?  …Is not this the fast that I choose:  to loose the bonds of injustice, to undo the thongs of the yoke, to let the oppressed go free, and to break every yoke?" Or, most likely, you will hear the words of the greatest of all laments, Psalm 51:  "Create in me a clean heart, O God, and put a new and right spirit in me."    These are the words of the many Ash Wednesday's that I have known.
Yet, today, it is the words of that forgotten book (or sometimes forbidden and shunned book) of the Hebrew Bible, the Song of Songs, that fights through these words of tradition for me:
6 Place me like a seal over your heart,
    like a seal on your arm;
for love is as strong as death,
    its jealousy[a] unyielding as the grave.
It burns like blazing fire,
    like a mighty flame.[b]
7 Many waters cannot quench love;
    rivers cannot sweep it away.
If one were to give
    all the wealth of one's house for love,
    it[c] would be utterly scorned. (Song of Songs, 8:6-7)
It seems to me that, this is what today is truly about — love as strong as death, love so jealous of anything else that it pulls us from the grasp of death and returns us to life, a love that cannot be quenched or extinguished, even when we ourselves refuse its presence in our lives.  And, a love, that if we commit to its full embrace, may indeed cause the world to scorn us for that choice.
So, today, as I stand to receive the mark of the pilgrim on my forehead, the pastor in front of me may say the words of paraphrased words of Ecclesiastes 3:20 that are so familiar to us,   "Remember that you dust and to dust you shall return," but I, my friends will sing a song in my heart of a love that knows no death.
A blessed Ash Wednesday to you all.
Copyright secured by Digiprove © 2016 Susan Sevier