Telling the sacred story, Part 1
This is the first of a series that began as an exercise — a training exercise for those pursuing a call to spiritual companioning (or, as it is often called, spiritual direction).  Living into the charism of a listening ministry requires of all of us that we pursue, each and every day, the continued path of our own spiritual formation.  My telling of my own sacred story is a result of just that formation project and the kind of ongoing work that I do.  I heard wise words this morning, from the Rev. Michele H. Morgan at St. Mark's Episcopal Church.  She was talking about the Gospel text of the day, Matthew 20:1-16, but the words she said really apply to any exercise in which we use the sacred story of our faith to help us see the sacred work of God in our own lives.  She said:  "Pour your life through the parable."  I would change it a bit, because for me, in my own practice, I believe it works beyond the parables.  Pour your life through the story, I would say.  And that is just what I have done in the words below.  
I offer this work to you so that you can see the possibilities in this kind of study.  Yes, some of these comments are deeply personal in nature, but I truly believe that I cannot suggest to any of you that you make yourself vulnerable with me or with others if I am not willing to do it myself.  And so, I begin a series on telling the sacred story with my own story.  I pour myself through the story of Jacob from the book of Genesis.
First, let me begin with a statement of theology. I believe that there is no more powerful way to God than through the process of placing ourselves in the great story of the faithful who came before us. Forming this relationship between ourselves and the stories of our foremothers and forefathers gives us permission to tell our story, and forms the tools we need to weave our unique thread into that divine tapestry of love. As spiritual companions, we must walk before we can run – we must tell our own stories so that we can help others find and tell theirs. This process creates a chain of healing in our crazy world, one story, one person, at a time.
This deeply held belief has led me down many paths of practice. I have studied with and occasionally participate in the activities of the Network for Biblical Storytellers; I am trained in methods created by the Life Stories Institute to help others, particularly unheard and dismissed populations, tell their own unique stories. I am drawn to the work of the Allender Center at the Seattle School and their use of story as a healing tool for those suffering traumas of all kinds. Finally, I believe strongly that many spiritual companions must not be afraid of the sacred story. They must use it in the companioning process. The opportunity to sit down and use these tools that mean so much to me is a blessing.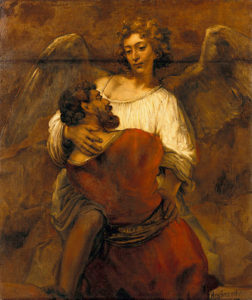 For this exercise, I have chosen a person, not a single story. Lately, I've been thinking a lot about Jacob. You, know, Jacob the trickster, Jacob the dreamer, Jacob who took the place of his brother. Gen 27 tells us the story of how Rebekah, Jacob's mother, helped him trick his father so that he granted him the firstborn's blessings and property, though they belonged to his brother Esau. Clearly, I am not a man and I did not live in a family whose legacy included flocks and tents. I have, however, for most of my life, lived under the shadow of my brother, and, to some extent, my sister, who came before me. I have, on many occasions, felt that I received the good that was meant for them. I have needed to live up to the expectations my parents had for my brother, who died at age 18 (when I was 4), and for my sister, who broke my parent's collective hearts by running away to join Scientology when I was 6. I have, on many occasions, felt that I was the impostor living a legacy that was not mine. I can imagine that Jacob had more than a few days like that.
I, like Jacob, left home for a seemingly family-approved activity (for Jacob, it was marriage; for me, it was education), and just never came back. It was, in both cases, a kind of running away.  For Jacob, and for me, it was as if we just disappeared into another life. And, along the way, I, like Jacob, dreamed of the thin places between our world and God. I probably dreamed about a few ladders on that journey, and I have, on more than one occasion, awakened to the cry of awareness that he speaks  in Gen 28:16: "Then Jacob woke from his sleep and said, "Surely the Lord is in this place—and I did not know it!'"
I, like Jacob, struggle with the idea of place. Rabbi Lawrence Kushner, in his great study of Gen 28:16, God Was in the This Place and I, I Did Not Know, tells us that in rabbinic tradition, the word for place is important. The Hebrew word for place is makom, and, it is also a name for God — God as holy space. The place where we stand, right now, this moment, is God, the very place of being itself. All we need to do is wake up. As Kushner says so eloquently:
You already are where you need to be. You need go nowhere else. Feel it now in the moisture on your tongue. Sense the effortless filling and emptying of your lungs, the involuntary blinking of your eyes. Just an inch or so behind your sternum where your heart beats. That is where the makom is. Right here all along and we did not know it because we were fast asleep, here in this very makom.[1]
You see, I have a lot in common with Jacob.
And I have one more way that my life resonates with the story of Jacob, one that tells the story of something that is not yet for me complete. And that story is in Gen 32:22-32, the famous overnight wrestling match. Interpreters disagree – was Jacob wrestling with God, or an Angel, or with himself or…? The text is not specific, leaving those of us reading the story some 2000 years later plenty of room for creative interpretation. That is not really the part of the story that draws me, however. The place where my story and Jacob's intertwine is this: that Jacob fought, he wrestled with an unknown being/shadow self, whatever; he was injured, and then, everything changed. His name changed. And most of all, his relationship to his brother changed. As we read in 33:4-17, the brothers reconciled at last: "But Esau ran to meet him, and embraced him, and fell on his neck and kissed him, and they wept (33:4)."
No, I am not saying that I have wrestled (consciously, at least) with an angel in the night, but bear with me for a moment. Almost a year ago now, my beloved beagle, Gracie, died of a massive liver tumor. When I look at the last pictures of her, I only now can see the extent to which we were blinded to her illness.  We were unable to see that tumor and its size, and, I can only guess, the pain that it was causing her. It was a difficult time in my life, a time that was both dark and bright in terms of life, light, and learning.
The very evening of the day that we finally made that unthinkable decision to ask the vet end her life, I was walking out of our house toward the car. I have no memory of why, but I do remember that it was darker than dark, and I was swimming in grief because of what we had just done. I cannot imagine what I thought was so important that I had to leave and go somewhere on some errand.
It is a short journey, from the house to the car. We have just three metal steps to go down to reach the patio. Just three steps, that is all there is. And in my grief, I missed the first one and the second one and yes, the third one, and I guess I thought that I would just make a giant single leap to the ground. Obviously, I failed. I fell head over heels and landed flat on the concrete patio. Apparently, I let out a scream that caused the neighbors to come running out of their houses. And for what seemed forever, I just lay there and sobbed. Luckily, I did not hit my head, but for days afterwards, my knee was swollen beyond all recognition. And I still have a scar from the scab on that knee, a scab that would have made any 7-year old boy proud.  And almost every day I feel the pain of that twisted knee.
The funny thing is, I immediately thought of Jacob and his midnight wrestling match. I too, was wrestling with someone or something that night; I had been wrestling hard for the long weeks of Gracie's illness. And like Jacob, I have a physical reminder of that night – an occasionally painful reminder that in my grief I did not take care of myself and I did not seek medical attention for that knee.
No one has suggested that I change my name because of that night, but everything else in my life was changed by that event – by the need to make a terrible decision on behalf of a being I loved and the physical reminder that has been left out of the grief of that day. And I never walk down those steps without thinking about that night and the bright line that was drawn in my life by those events.
Truthfully, as we approach the anniversary of her death, I know that there is more to this story. I wish and pray that perhaps I, like Jacob, will experience some sort of reconciliation with my past or my fears because of my little wrestling match with the steps. We will just have to see where the story takes me.
Look for Part 2 of Telling the Sacred Story, to learn more about the place of sacred stories in our lives.
[1] Lawrence Kushner, God Was in This Place& I, I Did Not Know: Finding Self, Spirituality, and Ultimate Meaning, First Digital Edition (Woodstock, VT: Jewish Lights Publishing, 2016), LOC 339.
Copyright secured by Digiprove © 2017 Susan Sevier